CloudAMQP on Bluemix Getting started
CloudAMQP is a service you can add to your app in Bluemix. We provide hosted message queues that lets you pass messages between processes and other systems. Messages are published to a queue by a producer, the consumers can then get the messages off the queue when the consumer wants to handle the messages. In-between, it can route, buffer, and persist the messages according to rules you give it.
Messages can be sent cross languages, platforms and OS, this way of handling messages decouple your processes and creates a highly scalable system.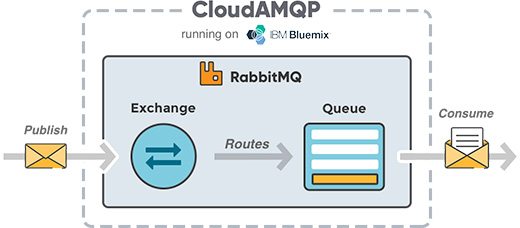 Service plans
We offer seven different plans, both dedicated clusters, individual servers and vhosts on shared clusters. Dedicated plans provides guaranteed isolation between instances, where as shared plans provides great performance but limits number of connections and number of messages sent per month.
All information about the different plans can be found here.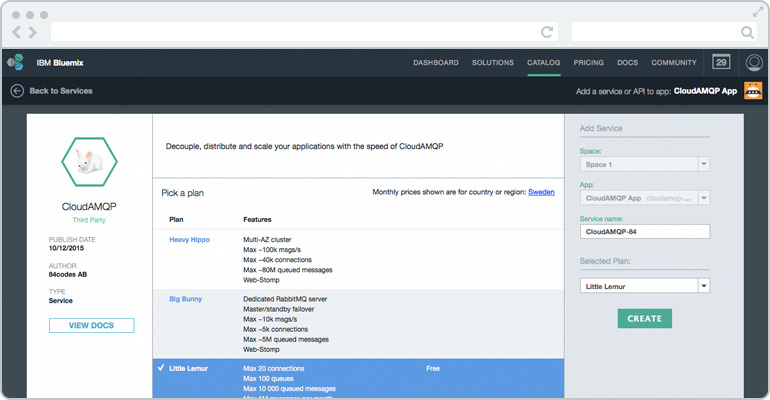 Where to start?
A complete getting started guide can be found here, RabbitMQ message queueing with CloudAMQP on Bluemix.
Start by adding the service to your app. All AMQP client libraries work with CloudAMQP and there are AMQP client libraries for almost every platform out there. Sample code, links to recommended libraries and further information about the client libraries can be found here: Ruby, Python, Celery, NodeJS, PHP, Java, Clojure, Go, Android, .NET, Perl, C
Instance information such as username and password can be found in the Control Panel from CloudAMQP. Once the service is added to space, a link to CloudAMQP Control Panel will appear within Bluemix. Open the Bluemix Dashboard and press Services and "OPEN CLOUDAMQP DASHBOARD".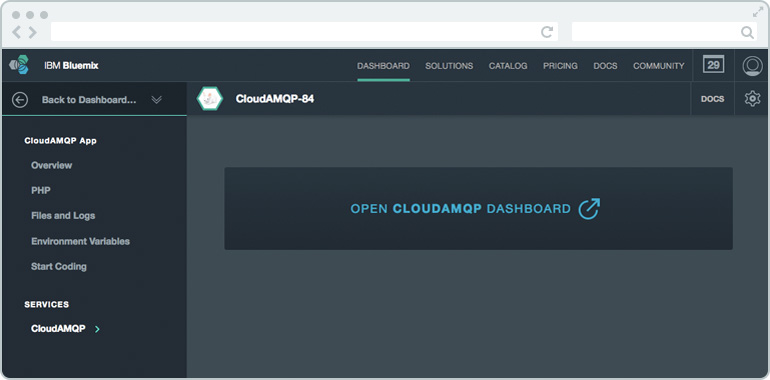 The instance details, such as connection URL, server name and password can be seen at the details page. You can also go to the RabbitMQ management page from the detail page.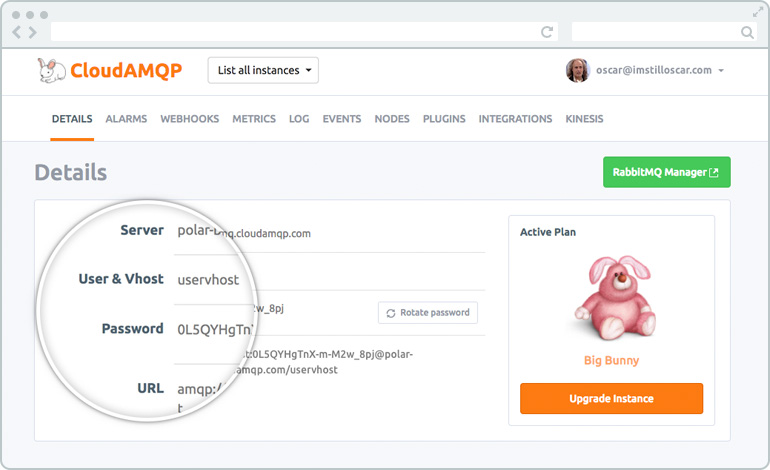 CloudAMQP offers various monitoring tools. These tools will address performance issues promptly and automatically, before they impact your business. Read more about the monitoring tools here.
A product overview, showing different tools and features to simplify the usage of your RabbitMQ instances can be found here in the product overview page.
VCAP_SERVICES
The connection and credential information for the service instance is available in the Bluemix VCAP_SERVICES environment variable. You can use the VCAP_SERVICES environment variable to connect to the CloudAMQP. Open the Bluemix dashboard and press Environment Variables to find it.
Support
Support information can be found here.
A list of our most frequently asked questions can be found here.