Amazing news! The RabbitMQ Summit is back, and this year it's both digital and in person!
The interest in building scalable, stable applications with RabbitMQ just keeps growing, so it's a great time to announce that the RabbitMQ Summit is back for 2022! Plus, after quite a few digital events, it's exciting to be able to meet in person. Let's get ready to share our most recent experiences and discuss the latest news within our community.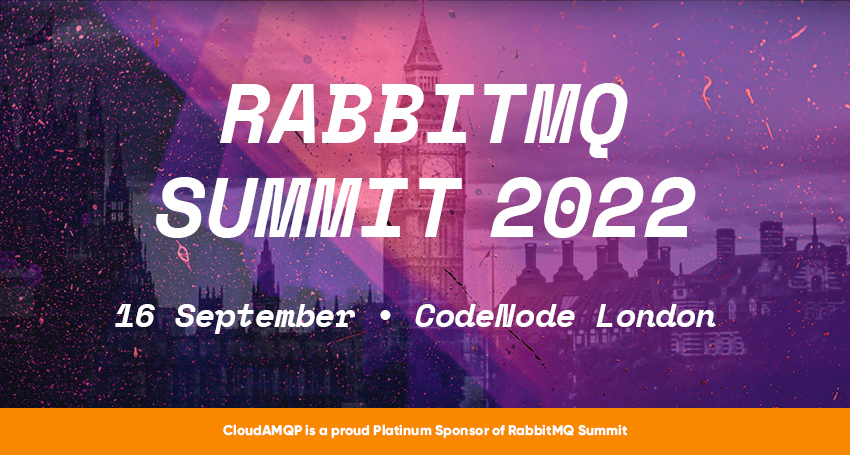 We hope that you are as excited as us to meet at the fourth edition of the RabbitMQ Summit 2022. This year's hybrid event (yes, you can still follow us online) returns to Code Node London, the scene of the very first RabbitMQ Summit in 2018.
The official RabbitMQ Summit 2022 website will be updated with:
Full schedule
Information about sponsors
Information training sessions
General information about the summit
The website will be updated continuously and all the latest news will be presented on Twitter, so be sure to stay updated.
CloudAMQP will be there to share our experiences as the largest hosting provider of RabbitMQ.
Watch some of our previous talks here:
Win tickets to meet the CloudAMQP team in London!
The CloudAMQP team will be there, and we would love for you to join us! Send us a few words that describe how CloudAMQP helped you and your business. You will be entered in a competition for two tickets to attend (in-person, or digital if you prefer) the RabbitMQ Summit 2022 (travel and accommodation aren't included). The winner will be contacted via email.