Working on creative strategies for technical marketing has never been more exciting, that's why we love our work in the technical marketing team at CloudAMQP. Not only do we get to create content like technical guides, blog posts, and informative videos - we also get to interact with our customers to understand their problems and match them with the features. Or, even better, just listen to customers describing how they have used our product.
I've spent a good chunk of my professional life as a developer, support engineer, and systems administrator - but spreading the word about a specific product, and teaching others is the most interesting, fun and engaging task, I think. I love to wake up in the morning, knowing that I will have all day to investigate a new feature, or write a manuscript and record a video of findings for a given topic, like this article about RabbitMQ exchanges.
CloudAMQP is now looking for someone to join the marketing team! To join us, you need to be ready to develop a deep understanding of what RabbitMQ offers and then turn around and spread the word far and wide.
Everyone is into tech. Everyone.
Everyone in the CloudAMQP marketing team is a "technical marketer". All of us have a deep understanding of our product and have fun investigating new functions and features of RabbitMQ, even though not all of us are coming from a technical background. We think that deep product knowledge is very important for us to be able to communicate our value to customers.
Content Writing is our Backbone
We think of content writing as a way to educate the RabbitMQ community as well as our customers. The more people that read our blogs, and the more blogs we write, the less struggle our support team needs to have with errors that could have been avoided.
We think of content writing as any form of communication used to convey a message or sell a product. It begins the engagement with our potential customers and reinforces the message to the existing audience. Really, content writing is more like content creation! For us, "content marketing" includes anything from video manuscripts, whitepapers, and infographics, or a great, informative blog post or comparisons to competitors.
"Content writing" is the basis for the CloudAMQP marketing efforts. For us, content writing is all about knowing how to answer questions in the most pedagogical way possible.
The Content Creation Process
Before we get started writing, we need to find interesting topics to write about and prioritize them. We talk weekly with the development and support team to discuss active topics, new features, commonly asked questions, bugs in client libraries, and common errors, to name a few. We also follow StackOverflow, RabbitMQ's mailing list, hacker news, RabbitMQ GitHub issues, and the RabbitMQ Slack channel to stay on top of what our customers are interested in. We also try to answer those questions with blogs and within that forum as often as we can.
Articles begin by setting a goal to be achieved in creating the article. We ask ourselves what we want the audience to know by the end of reading the article, and how they should be able to use it. Creating content is much more than just writing, it also means some time spent investigating and understanding new concepts.
In addition to creating valuable content, we also consider SEO analysis. We need to make sure that we are using the appropriate keyword phrases in order for the articles to rank better in search engines, which alerts readers who may not have found it otherwise.
Finally, we try to make sure that the content is engaging and easy for readers to understand. We add very informative yet simple images to our blogs to make them easier to digest. Ultimately, what makes a blog great is to resonate with the audience. Most of our existing and potential customers are developers themselves, so it is important to remember the audience when writing content.
Many great content writers for SaaS companies like ours began their careers as support heroes or developers themselves. They realized that there was another dimension to the business, and decided to enrich their tech careers by honing their marketing and content creation skills.
Great Blogs Mean More Customers
The whole purpose is to help users, build trust, and drive traffic, of course; a real win-win. So the next time someone is curious or has a challenge, we increase the probability that when they search, there we are.
Blogging is a great way to bring more visitors, including prospective customers, to our website. Consistently writing blog content is important, and investing time and creativity into developing ideas for a successful blog to reach an increasing percentage of the target audience is worth it in the long run.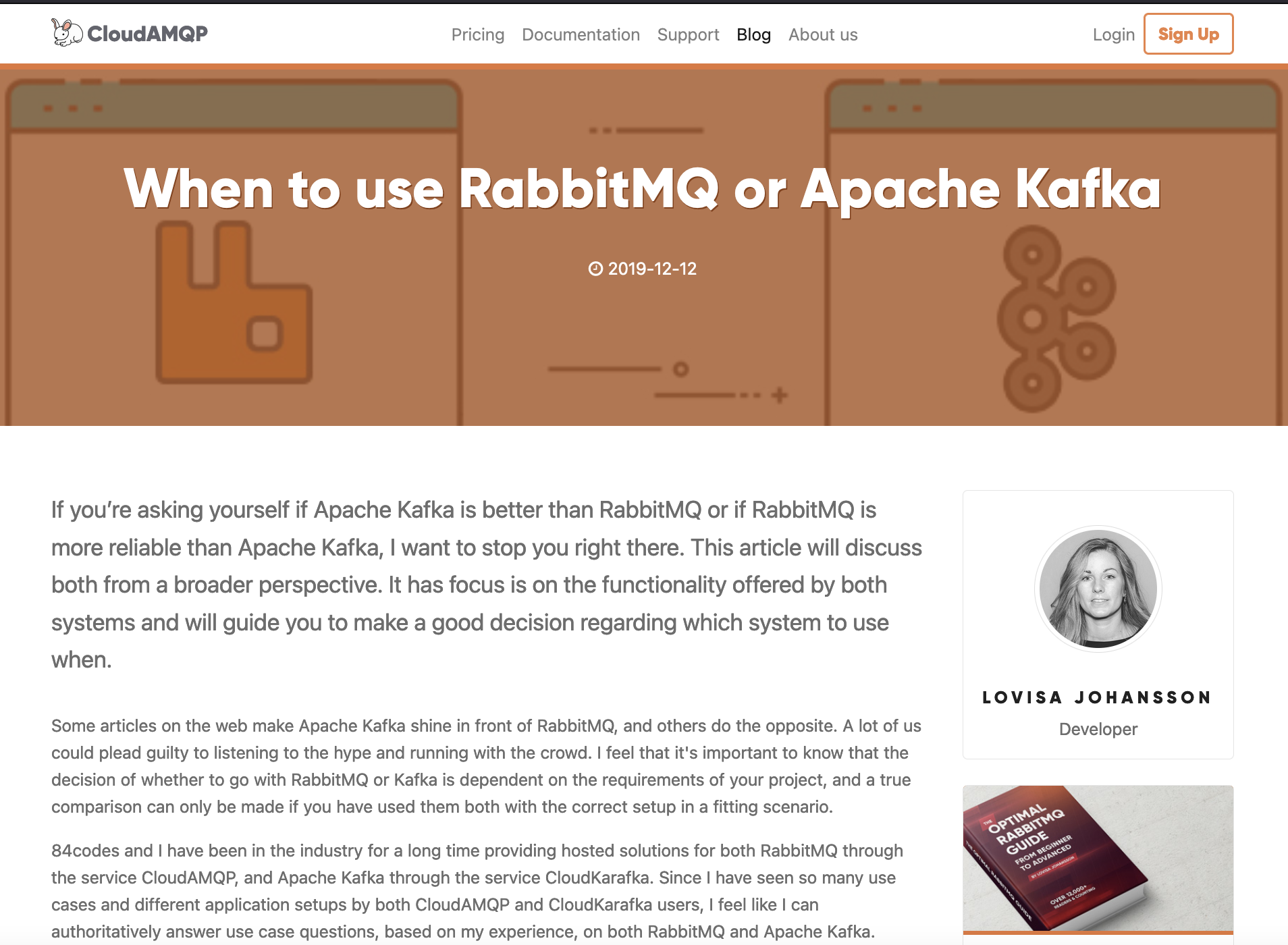 Today we have around 100 blog articles in different categories like user stories, beginner guides, faqs, news, and more. Most of the blogs that we write are evergreen content, meaning that they are valuable for the long term. We also review our blog frequently for any content that needs to be updated. We have also collected some of our articles into a complete book.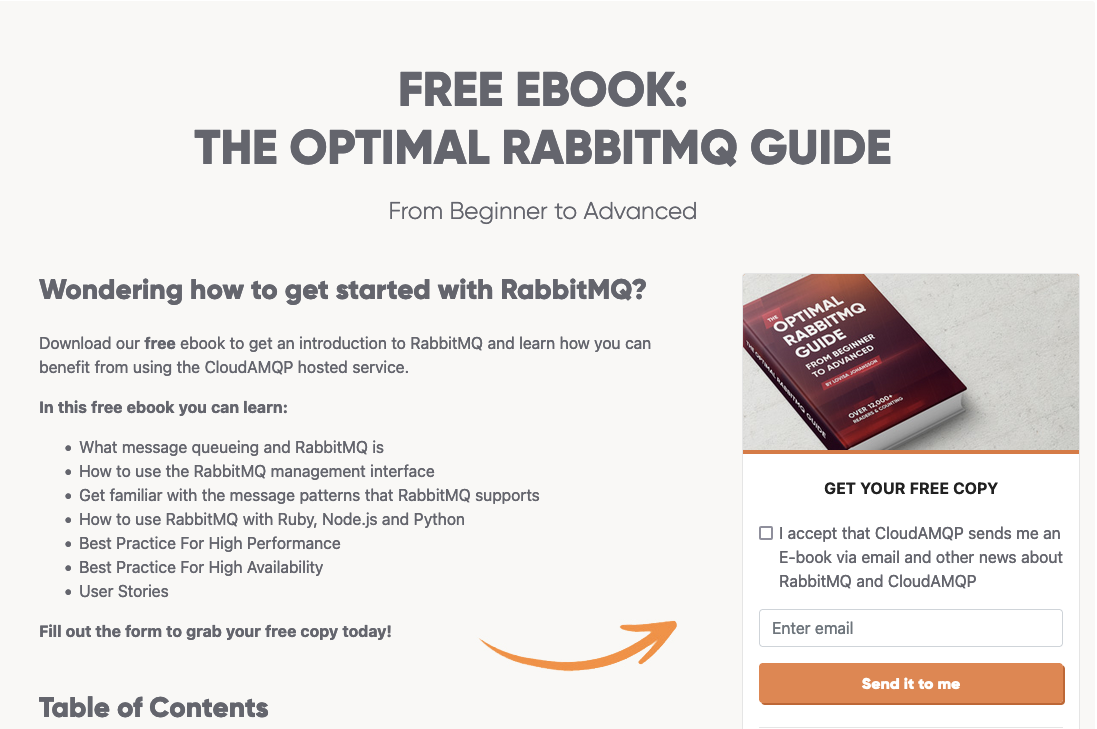 Marketing professional at CloudAMQP
Do you have a technical background, with a writing talent looking for a career upgrade? Consider a move that isn't as scary as finding a whole new industry! Join CloudAMQP as our new RabbitMQ evangelist!
As the CloudAMQP content marketing professional, your day could include:
Identify customers' needs and gaps in our content and recommend new topics
Create manuscripts for, and record videos for YouTube and the RabbitMQ training tool
Have marketing strategy meetings with the team
Investigate RabbitMQ streams
Conduct simple keyword research and use SEO guidelines to increase web traffic
Do RabbitMQ performance tests on new features
Compare RabbitMQ to ActiveMQ
Speak on a webinar or conference
And of course.. writing of technical blog posts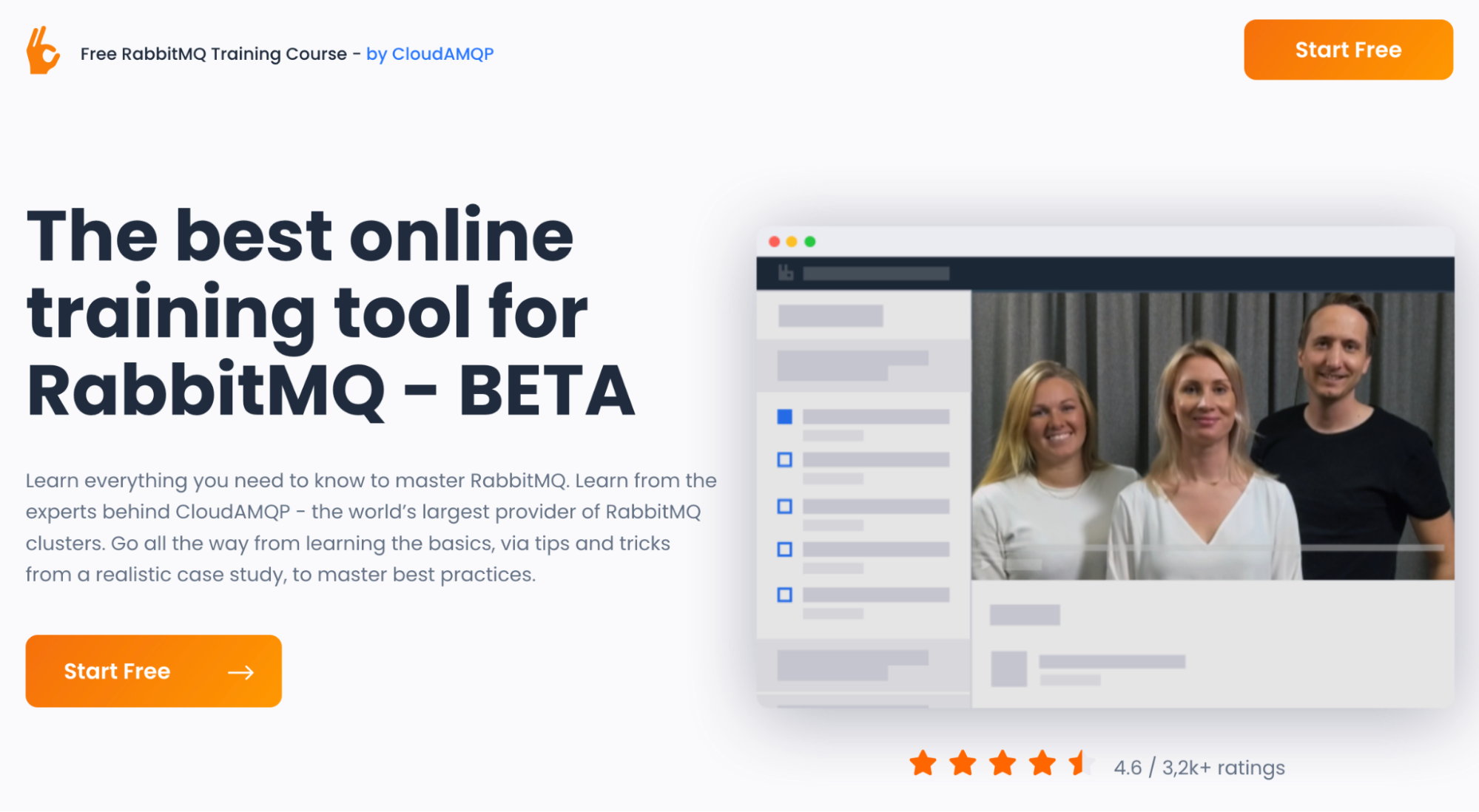 You never know, and it's never dull because there is always a new feature, a new customer request, or a new, great idea from the team. Besides everything above, you will be part of a small team where all of us come from different technical backgrounds. Something we value very high is freedom, in time and place, work-life-balance and good team spirit. Contact us if you have technical knowledge and experience but want to reinvent your career at this stage and impact the success of the company in a whole new way!
Read the job post at www.84codes.com , the company behind CloudAMQP.