Product overview
CloudAMQP offer different tools and features to simplify the usage of your RabbitMQ instances. Various monitoring tools will help you to overview server metrics, set server alarms, enable and disable plugins, view server details and handle the nodes in the instance.
Product details
The instance details, such as connection URL, server name and password can be seen at the details page directly after your CloudAMQP instance has been created. You can also go to the RabbitMQ management page from the detail page.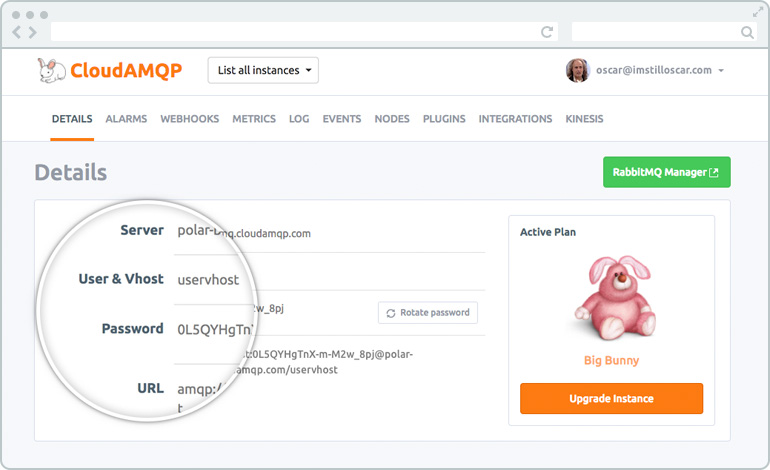 Alarms
It is possible to activate alarms and receive accurate alerts based on performance anomalies in your application. The alarms available are Queue Alarms, Consumers alarm, CPU Alarms and Memory alarms. Read more about alarms and how to activate them in the monitoring pages.
RabbitMQ Diagnostics Tool
RabbitMQ Diagnostics Tool is only available for dedicated instances.
RabbitMQ Diagnostics Tool help you identify common errors in RabbitMQ. The tool will check your setup, and give you suggestions of things you need to look into. Most use cases should aim to get a valid response to 100% of all test. However, there are use cases, where breaking some common rules is necessary.
You can find RabbitMQ Diagnostic Tool in the control panel for your instance, via the Diagnostics tab in the menu.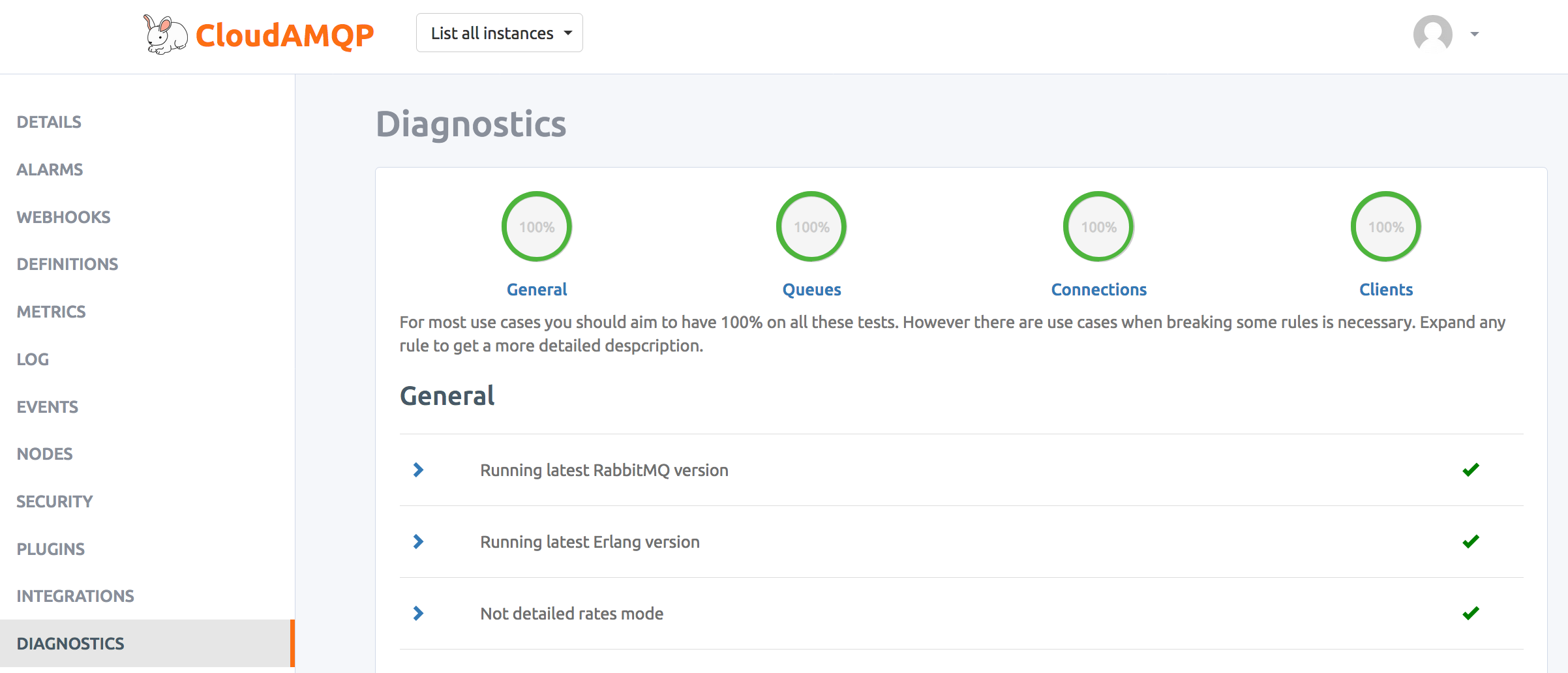 Webhooks (beta version)
Webhooks are only available for dedicated instances.
Note: The webhooks feature is provided as a beta software and it is not yet covered by the SLA.
Webhooks (push-queues) can be set up from the console page of CloudAMQP. A webhook is a way for an app to provide other applications with real-time information. It will POST any messages placed in a specified queue to a specified URL. A POST request will be made for each message in the queue. If the endpoint returns a HTTP status code in the 200 range, the message will be acknowledged and removed from the queue, otherwise it will retry to POST it again. How often it should retry to POST the message can be specified in the retry interval. The queue has to be in your default vhost and it has to be a durable queue.
Webhook API
CloudAMQP also has a Webhook API which allows you to list, create, and delete webhooks instances programmatically.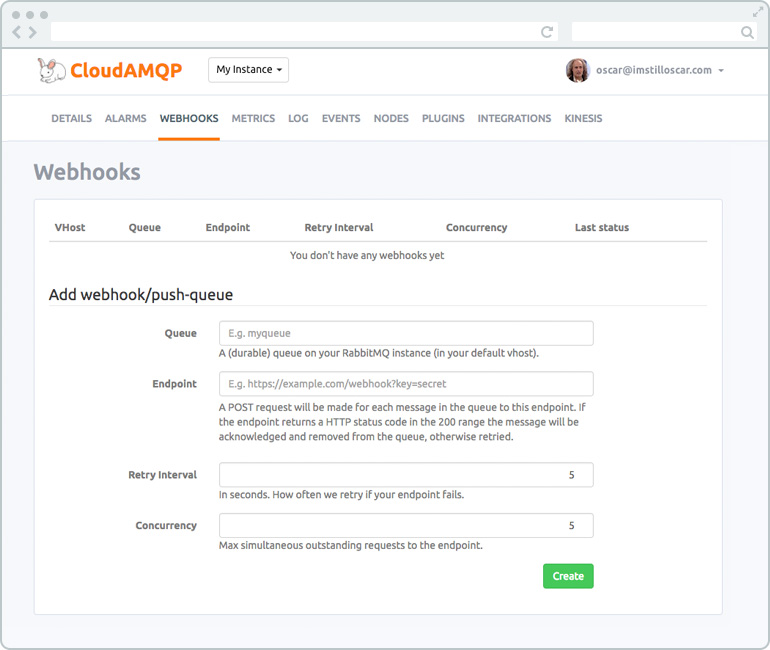 Server metrics
Server metrics are only available for dedicated instances.
server Metrics helps you to measure performance metrics from your server. CloudAMQP shows CPU Usage Monitoring and Memory Usage Monitoring. Read more about server metrics in the monitoring pages.
RabbitMQ Log Stream
The RabbitMQ Log stream is only available for dedicated instances.
RabbitMQ Log Stream shows the live log from RabbitMQ.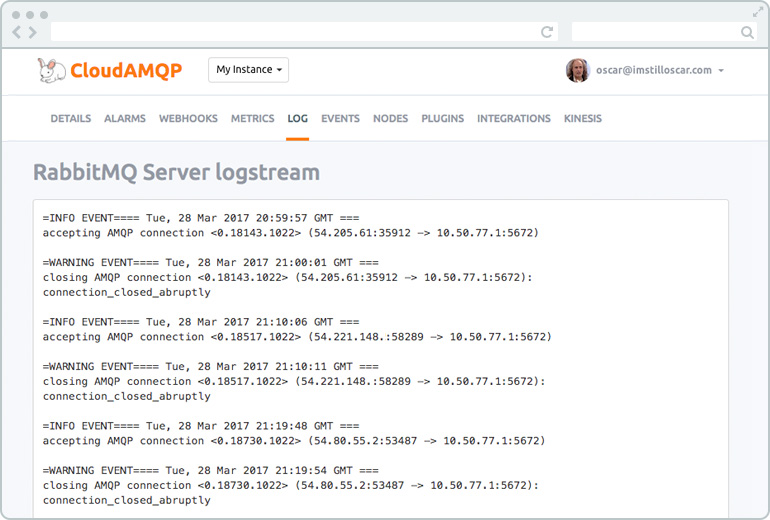 RabbitMQ Nodes
Nodes is only available for dedicated instances.
From the nodes tab can you check the status of each node in the instance. It is also possible to upgrade the RabbitMQ version and the Erlang version. The instance can be rebooted and HiPE can be activated or deactivated.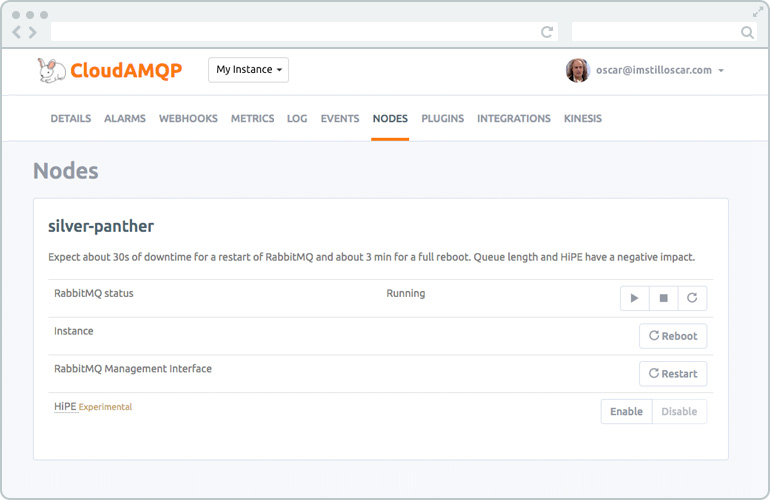 Plugins and NewRelic Agent
Plugins are only available for dedicated instances.
Common plugins can be enabled and disabled from the plugin tab in the CloudAMQP console. All plugins that are enabled/disabled via the plugin tab will survive a server restart and they will also be moved to the new cluster when you perform plan changes. Other custom RabbitMQ plugins can also be enabled/disabled upon request.
A NewRelic Agent can also be set up from the plugin page. Add the your license key from the NewRelic RabbitMQ plugin page.
NewRelic can be used to collect and visualize various metrics from RabbitMQ metrics, including: Message rates, Queue sizes, Sockets used and Individual Queue Metrics.
Send us an email or enter the chat and we will support you.

VPC Peering
Dedicated VPC is only available for our dedicated instances. Select to create your cluster in a dedicated VPC. When you create your VPC you get to select the VPC subnet, make sure that it does not overlap with any VPC subnets you want to peer with.
Open the details for your new instance as soon as it is created and navigate to the tab VPC. There you find the necessary details to create a peering request from your AWS console. The request is then accepted from the VPC tab in the CloudAMQP console.
You can read about Amazon VPC and VCP peering to CloudAMQP in this blog post.
CloudAMQP API Access
CloudAMQP API allows you to create, update and delete CloudAMQP instances programmatically. Information and documentation for CloudAMQP API can be found in the control panel for your account.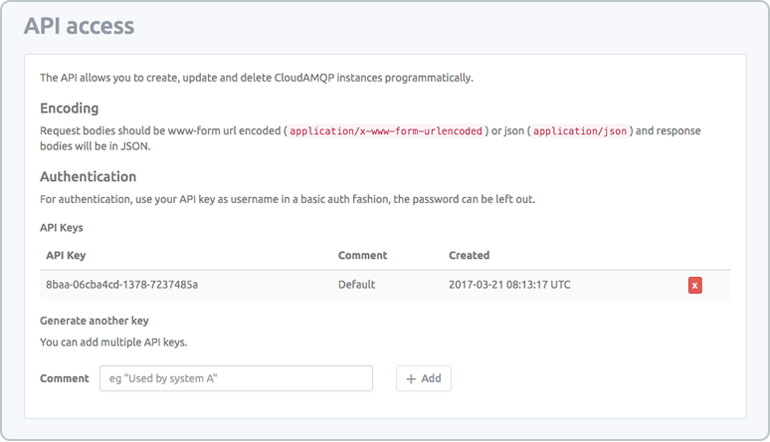 RabbitMQ management interface
The RabbitMQ Management is a user friendly interface that let you monitor and handle your RabbitMQ server from a web browser. Among other things, queues, connections, channels, exchanges, users and user permissions can be handled - created, deleted and listed in the browser. You can monitor different rates and send and receive messages manually.
This CloudAMQP blog post give information about the different views that you can find in the RabbitMQ Management.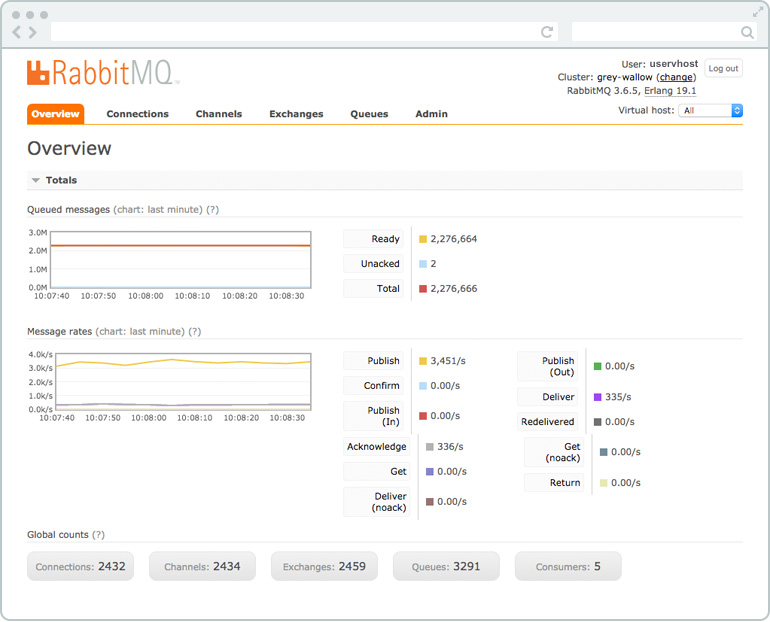 rabbitmqadmin/cli
The management plugin is enabled for all CloudAMQP instances and it ships with a command line tool rabbitmqadmin which can perform the same actions as the web-based UI, RabbitMQ management interface.
Port should be 443 and --ssl has to be used. An example is shown below lising exchanges:
rabbitmqadmin --host=HOST --port=443 --ssl --vhost=VHOST --username=USERNAME --password=PASSWORD list exchanges