Product overview
CloudAMQP offers the CloudAMQP Console, with different tools and features to simplify the usage of your RabbitMQ instances. Various monitoring tools will help you to overview server metrics, set server alarms, enable and disable plugins, view server details and handle the nodes in the instance.
Details
The instance details, such as connection URL, server name and password can be found in the Details page directly after your CloudAMQP instance has been created. You can also upgrade the instance from the detail page.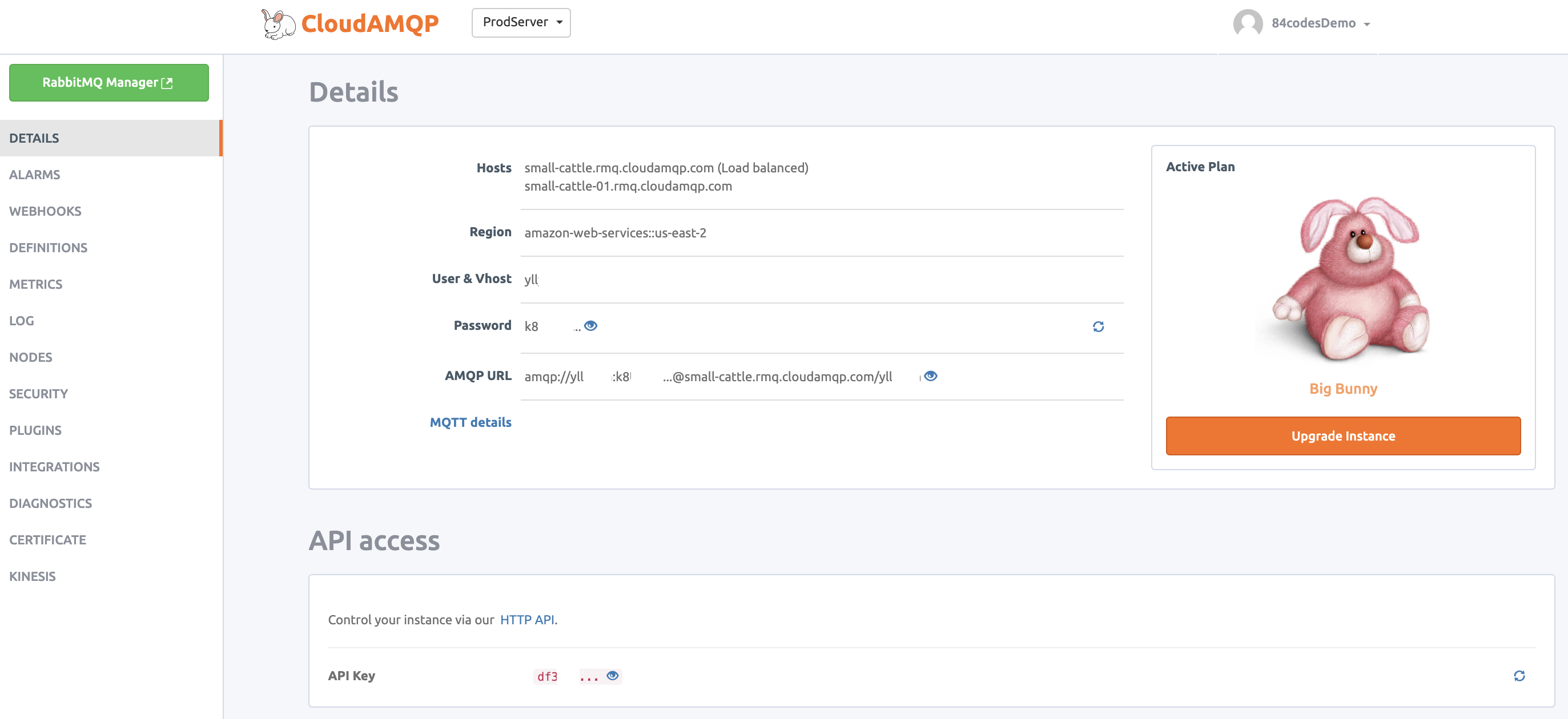 Alarms
It is possible to activate alarms and receive accurate alerts based on performance anomalies for your instance. The available alarms and how to activate them can be found under monitoring pages.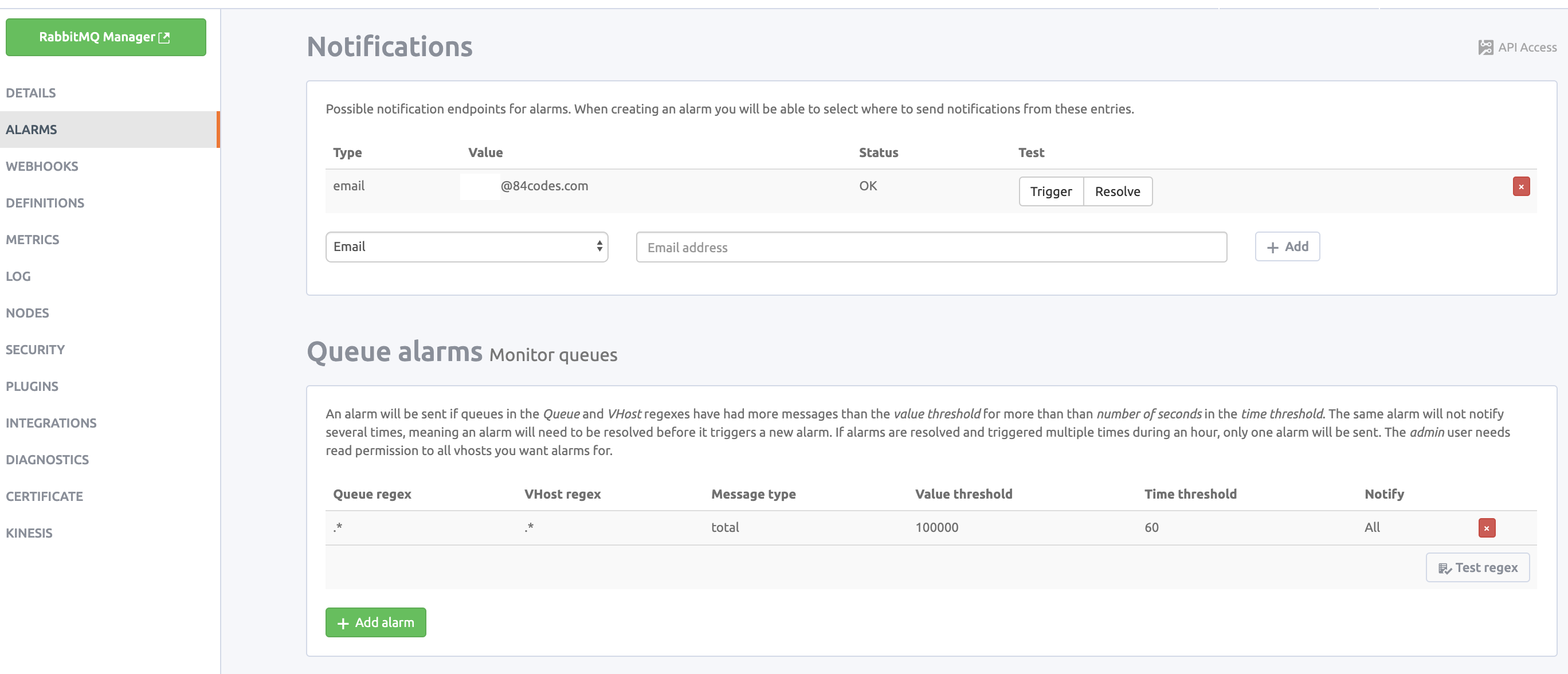 Webhooks (beta version)
Webhooks are only available for dedicated instances and provided as a beta software, and therefore not covered by the SLA yet.
Webhooks (push-queues) can be set up from the console page of CloudAMQP. A webhook is a way for an app to provide other applications with real-time information. It will POST any messages placed in a specified queue to a specified URL. A POST request will be made for each message in the queue. If the endpoint returns a HTTP status code in the 200 range, the message will be acknowledged and removed from the queue, otherwise it will retry to POST it again. How often it should retry to POST the message can be specified in the retry interval. The queue has to be in your default vhost and it has to be a durable queue.
Webhook API
CloudAMQP also has a Webhook API which allows you to list, create, and delete webhooks instances programmatically.
Definitions
Definition backups are only available for dedicated instances.
CloudAMQP takes backups of RabbitMQ definitions for your cluster. Definitions include users, vhosts, queues, exchanges, bindings, and runtime parameters. Definitions can be downloaded and imported via the RabbitMQ Management HTTP API.
Note that messages are not stored as definitions and are therefore not backed up here.

Metrics
Metrics are only available for dedicated instances.
Metrics helps you to measure performance metrics of your instnace.
Server metrics show CPU usage, memory usage, disk usage and network.
RabbitMQ metrics show connections, channels, consumers, queues, messages, connection churn rates, channel churn rates, queue churn rates, and message rates.
Read more about metrics in the monitoring pages.
Log
The RabbitMQ Server logstream is only available for dedicated instances.
RabbitMQ Server logstream shows the live log from RabbitMQ.

Nodes
Nodes is only available for dedicated instances.
From the Nodes tab you can perform a number of action on your cluster: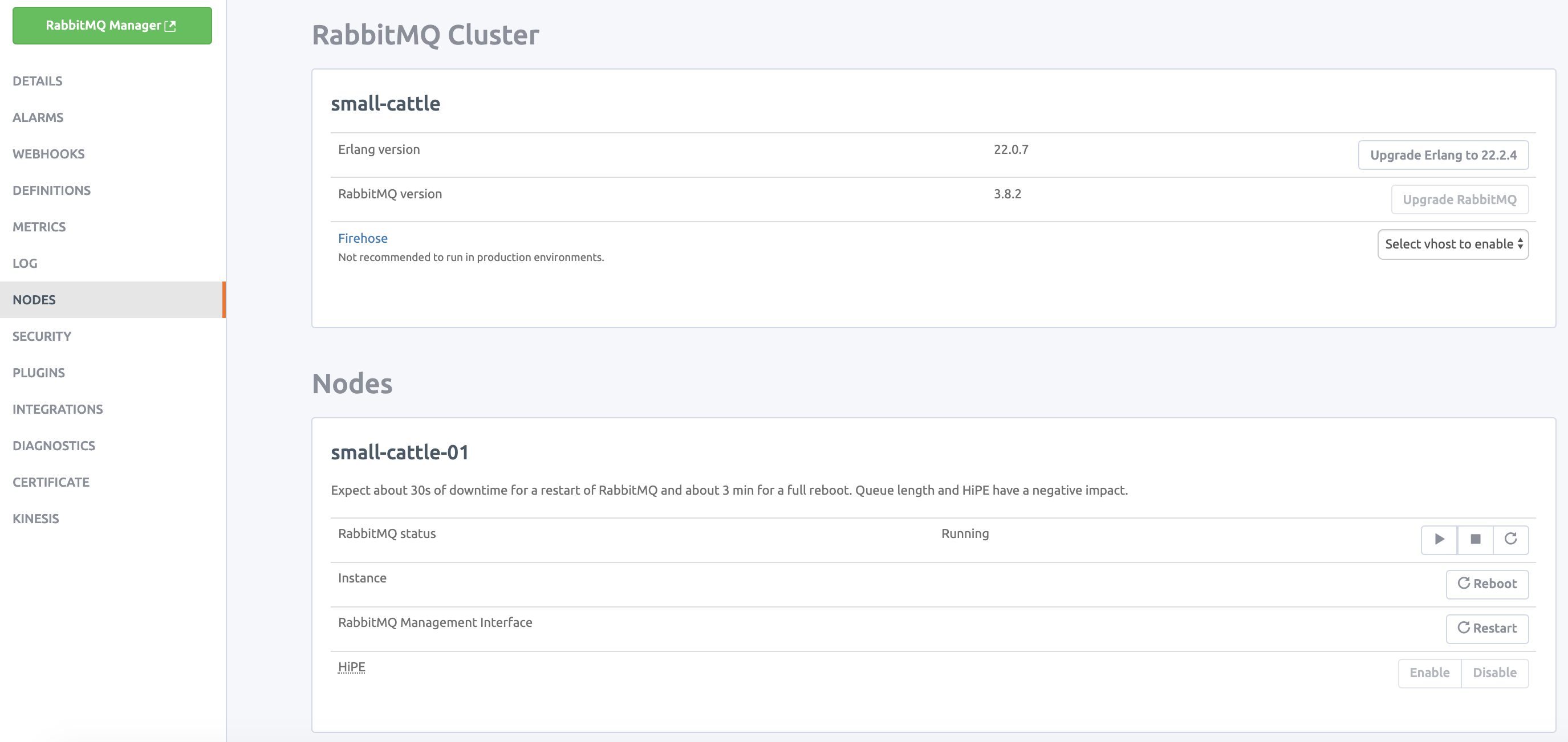 Firewall
Firewall is only available for dedicated instances.
Firewall rules can be amended for IPs and ports. Enter source IP, with a netmask, and which ports should be opened for that source IP. Ports not listed in the table will be blocked.

Plugins
Plugins are only available for dedicated instances.
Common plugins can be enabled and disabled from the plugin tab in the CloudAMQP console. All plugins that are enabled/disabled via the plugin tab will survive a server restart and they will also be moved to the new cluster when you perform plan changes. Other custom RabbitMQ plugins can also be enabled/disabled upon request. Send us an email we will help you.

Integrations
Integrations are only available for dedicated instances and are not covered by the SLA.
The CloudAMQP team monitors your servers and RabbitMQ brokers to make sure that the service is online and and performing well. But we have also built a number of integration to third party systems to which we can export logs and/or metrics. This allows you to get a good overview on how your system is doing and get logs and metrics into same place as you have your other systems monitored.
More information on CloudAMQP integrations, read our documentation here.
Diagnostics
The Diagnostics Tool is only available for dedicated instances.
The Diagnostics Tool helps you identify common errors in RabbitMQ. The tool will check your setup, and give you suggestions of things to improve. Most use cases should aim to get a valid response to 100% of all test. However, there are use cases, where breaking some common rules is necessary.

Certificate
Certificate is only available for our dedicated instances.
If you want to connect to the server with a custom hostname you might want to use your own certificate (or else you have to ignore hostname verification). The certficate will be uploaded straight to your server(s) and not stored anywhere else. You also have the option to reset to default certificate.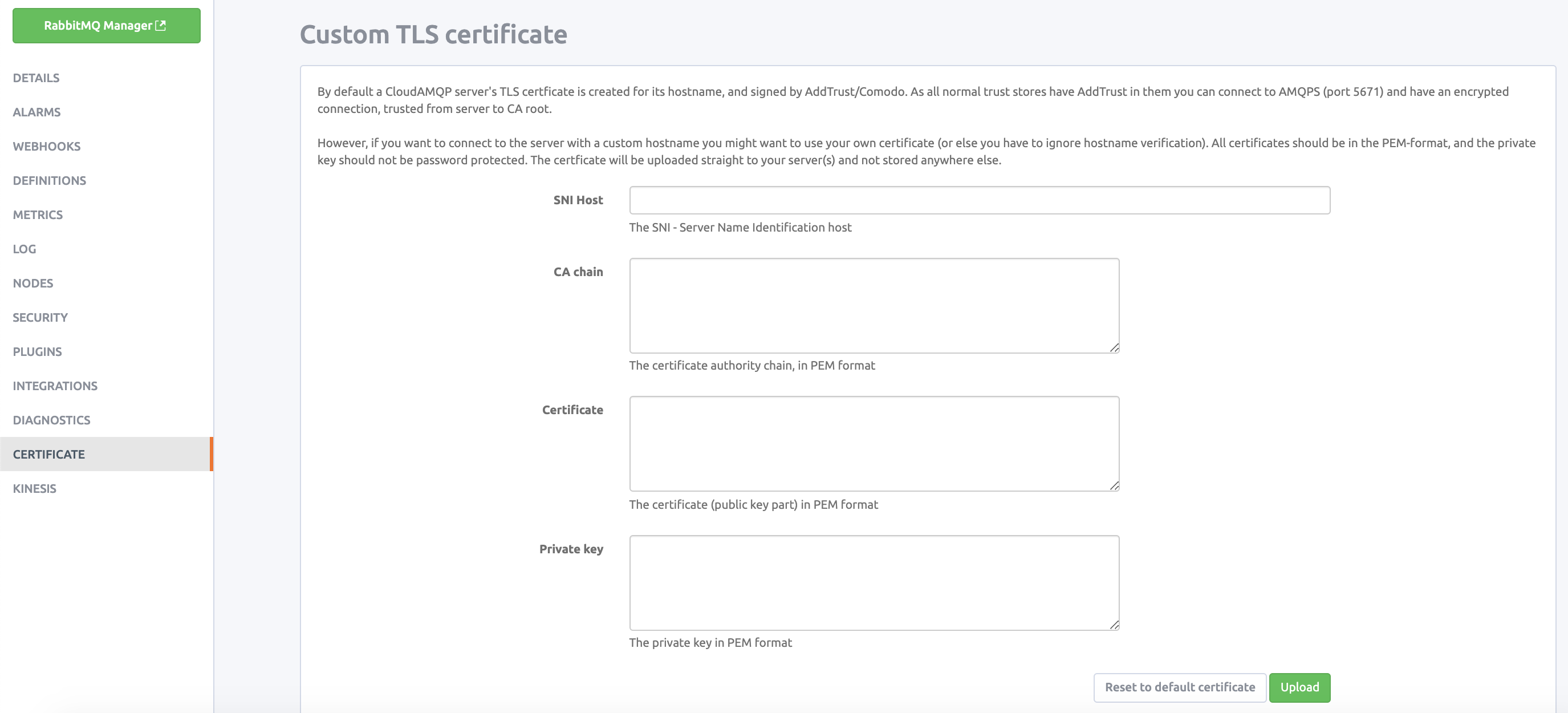 Kinesis (beta)
Kinesis is only available for dedicated instances and provided as a beta, and therefore not covered by the SLA yet.
You can send messages to an Amazon Kinesis Stream.
VPC
Dedicated VPC is only available for our dedicated instances.
When you create your cluster you get the option of configuring it in a VPC and a VPC subnet. Make sure that the subnet does not overlap with any VPC subnets you want to peer with. You cannot create a VPC for an instance after the instance has been created.
If you have created a VPC with your instance, the VPC page will be visible in the CloudAMQP Console. There you will find the necessary details to create a peering request.
For more information about VPC peering with AWS, see Amazon VPC Peering with CloudAMQP
For more information about VPC peering with GCE, see Virtual Private Cloud on Google Cloud Platform
CloudAMQP API Access
CloudAMQP provides two different APIs.
The Customer API is for customers that sign up via our site and that allows you to create, update and delete CloudAMQP instances programmatically.
The Console API is for all CloudAMQP instances, regardless if signed up via our site or a marketplace. That API is for managing settings for your cluster, for example, setting alarms, enabling plugins and more.
More information on the APIs can be found in CloudAMQP API Documentation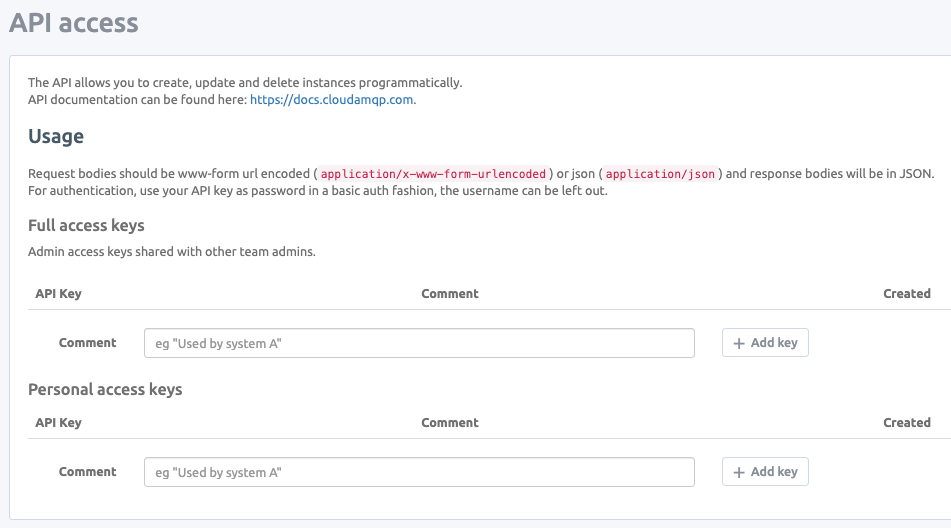 RabbitMQ Management Interface
The RabbitMQ Management is a user friendly interface that let you monitor and handle your RabbitMQ server from a web browser. Among other things, queues, connections, channels, exchanges, users and user permissions can be handled - created, deleted and listed in the browser. You can monitor different rates and send and receive messages manually.
Our blog post "The RabbitMQ Management Interface" gives you information about the different views that you can find in the RabbitMQ Management.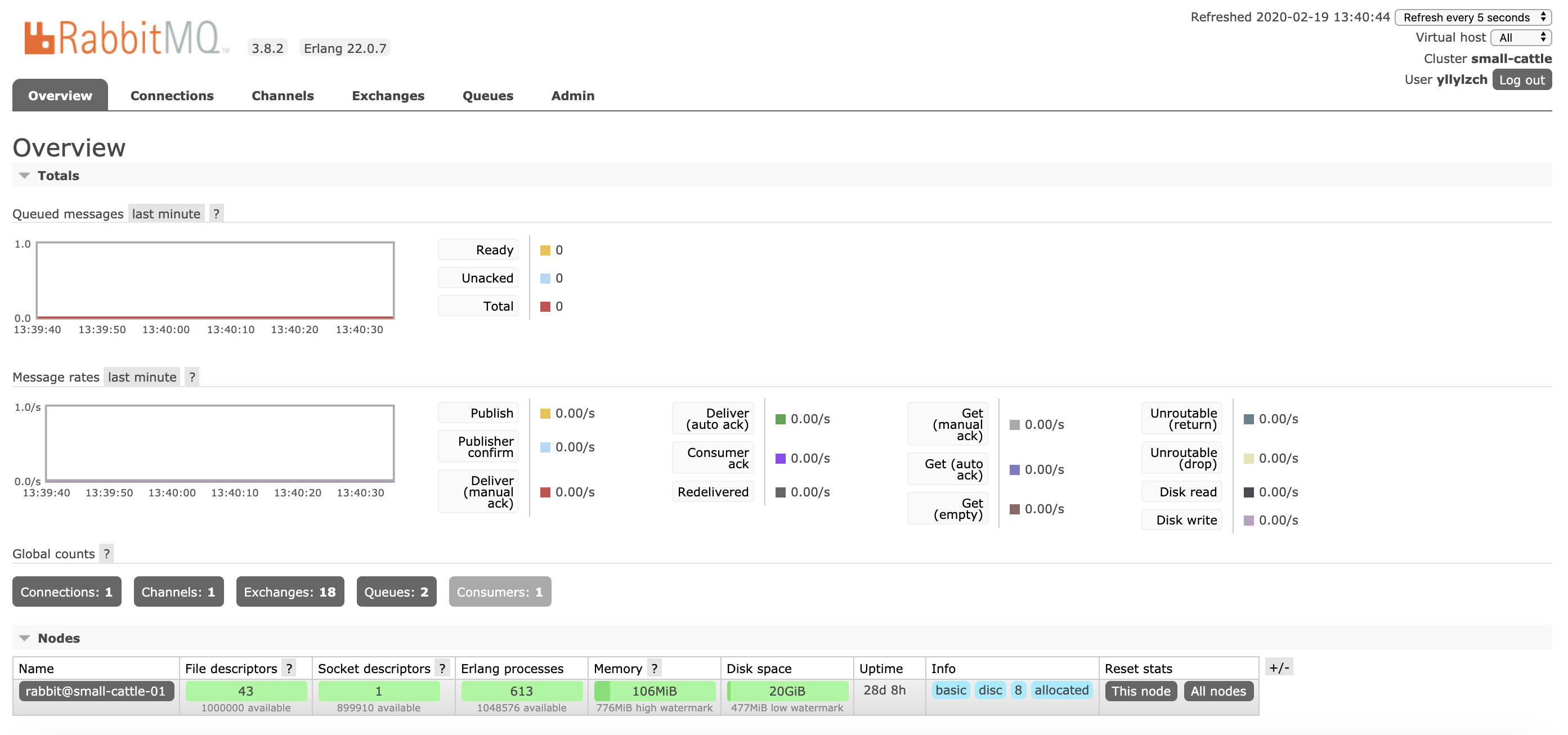 rabbitmqadmin/cli
The management plugin is enabled for all CloudAMQP instances and it ships with a command line tool rabbitmqadmin which can perform the same actions as the web-based UI, RabbitMQ Management Interface.
See Management Command Line Tool (RabbitMQ.com) for more information on rabbitmqadmin.
Port should be 443 and --ssl has to be used. An example is shown below lising exchanges:
rabbitmqadmin --host=HOST --port=443 --ssl --vhost=VHOST --username=USERNAME --password=PASSWORD list exchanges